Welcome to the Department of Curriculum & Pedagogy (EDCP) at UBC. We are committed to advancing research into learning and teaching in a variety of contexts and across the lifespan.
Read more »
---
News & Events
Sorry, no current events at this time.
November 12, 2019
Recent Publications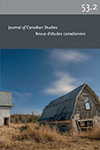 "The Most Just of all Educational Legislation": Provision of Free Textbooks in the Province of Ontario, 1846-1967
2019   Journal of Canadian Studies, 53(2), 392-422.
Interview Series
EDCP Interview Series 2014-2015
The EDCP Interview Series invited faculty members from the Department of Curriculum and Pedagogy to engage in a short interview about their current research interests and the impact their research is having.
Read more »
Seminar Series