Welcome to the Department of Curriculum & Pedagogy (EDCP) at UBC. We are committed to advancing research into learning and teaching in a variety of contexts and across the lifespan.
Read more »
---
News & Events
Sara de Rose, Independent Music Archaeologist

Event date: Thursday 04/18/2019, 2:15 - 4:15 pm
Awneet Sivia, Vandy Britton, Sheryl MacMath, Janet Carroll | University of the Fraser Valley

Event date: Friday 04/26/2019, 12:30 - 2:00 pm
March 27, 2019
March 18, 2019
Recent Publications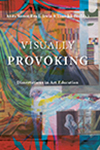 Visually Provoking: Dissertations in Art Education
2018. Rovaniemi, Finland: University of Lapland Press.
Interview Series
EDCP Interview Series 2014-2015
The EDCP Interview Series invited faculty members from the Department of Curriculum and Pedagogy to engage in a short interview about their current research interests and the impact their research is having.
Read more »
Seminar Series